In 1959, three brothers from Canada started a BMW Motorcycle Dealership in Fort
Lauderdale, Florida on the SE corner of 441 and Davie Boulevard. They sold BMW
motorcycles and accessories for all brands of motorcycles.
One of the brothers, Georges Jacques, bought out his brothers and became the sole
owner. His daughter Cindy started working at the dealership when she was 16. Years
later, her husband Fred Reeves started working there after he became a certified BMW
technician.
In 1987, Cindy and Fred Reeves purchased the dealership from her parents along with
the property on 441. In 1996, the widening of State Road 7 (441) forced the motorcycle
shop to relocate. Fred and Cindy purchased a storage facility located at 4201 Peters
Road and remodeled the first floor into a beautiful showroom and service shop for BMW
Motorcycles.
For over 40 years, Cindy's cousin, Raymond Jacques , was our head technician. His
son Tyler, who started working at the dealership when he was in high school, is
currently our Service Manager and a Level 3 Certified BMW Tech. Tyler and our head
technician, Josue, also a Level 3 BMW Certified Tech, have created a world class
Service Department.
Two of Fred and Cindy's daughters, Jennifer and Julie, also started working at the
dealership when they were in high school. Julie is now our Parts, Accessories and
Apparel manager. Jennifer began in sales and eventually became the General
Manager. In January of 2023, Jennifer and her husband John, a firefighter/paramedic
for a local municipality, purchased the dealership from her parents.
We take great pride in being a third generation, family owned and operated business
selling and servicing BMW Motorcycles for over 60 years. We could not have made it
this far without our amazing and hardworking team, especially our office manager,
Karen, who has been with us for over 50 years. As exclusive BMW Motorcycle dealers
become increasingly rare in North America, we enjoy providing a focused expertise to
our customers from all over the world. Come visit us soon!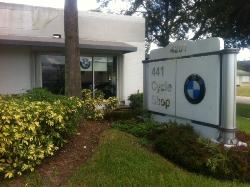 BMW Motorcycles Fort Lauderdale is conveniently located near the areas of Weston, Aventura, Coral Springs, Hollywood and Fort Lauderdale.