In 1959, three brothers started a BMW motorcycle dealership.  It was located on the SE corner of 441 and Davie BLVD (across from Georgia Pig).   They sold BMW motorcycles and accessories for all brands of motorcycles.
Years later, one of the brothers Georges Jacques, who still lives in Plantation with his wife Lucille, bought out his brothers and became the sole owner.  His daughter Cindy started working at the dealership when she was 16.  Years later her husband Fred Reeves started working there after he became a certified BMW technician.  In 1987 Cindy and Fred Reeves purchased the dealership from her parents George and Lucille.
In 1996, the widening of state road 441 forced the motorcycle shop to relocate.  Fred and Cindy purchased a storage facility located at 4201 Peters Road, and did a complete rebuild to turn it in to a beautiful showroom for BMW motorcycles.  They kept the upstairs the same and to this day still remains as Peters Road self-storage with approximately 55 units.
In the early years the head mechanic, Raymond, was Cindy's cousin and worked there for over 40 years.  His son Tyler started working at the dealership when he was in high school.  He is currently the service manager and a certified BMW technician.  Two of Fred and Cindy's daughters, Julie and Jennifer, also started working at the dealership when they were in high school.  Julie has become one of the leading parts and apparel sales people, winning and award for the most sales for BMW accessories and apparel in the USA in 2015.  Jennifer is the motorcycle sales person, often getting recognition for most sales in our district.  They both continue to work hard and manage the store when Fred and Cindy are away on RV trips, and visiting their vacation homes.
Fred and Cindy always enjoy giving back to the community in which they live and run their business.  For many years as the three daughters grew up playing softball, and soccer, BMW Motorcycles/441 Cycles sponsored their Plantation Athletic League (PAL) teams.
With the help of all of their employees, including Karen the office manager for almost 50 years, we hope the business will continue to grow and thrive with their aspiration that it will become a third generation family run business.  Next year BMW Motorcycles Ft Lauderdale/441 Cycle will be celebrating 60 years of business in our community.  Please stop by a visit anytime Monday through Friday 9-5, and Saturday 9-4.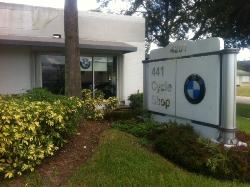 BMW Motorcycles Fort Lauderdale is conveniently located near the areas of Weston, Aventura, Coral Springs, Hollywood and Fort Lauderdale.